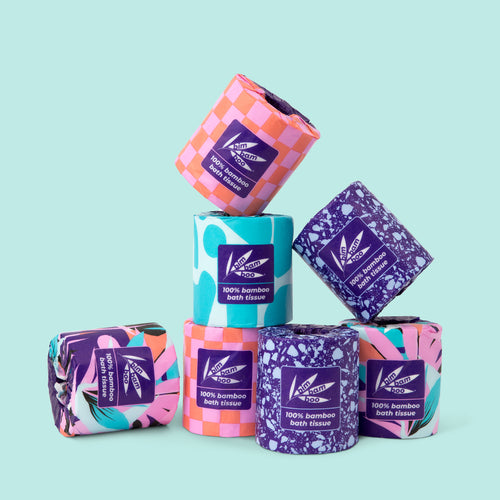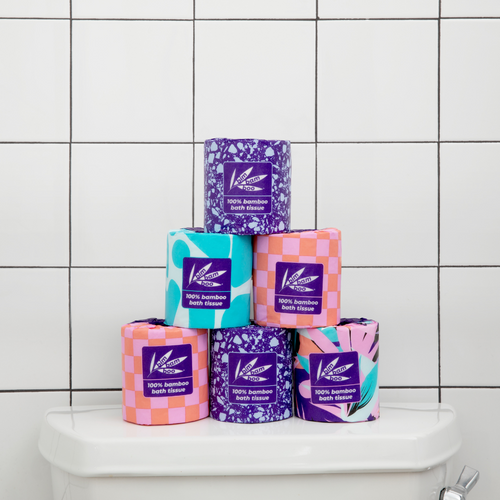 If for any reason you are unhappy with your order, reach out within 7-days of delivery and we will make it right.

Looking for a better alternative to linty toilet paper? Take the first steps to ensuring a non-irritating experience on your skin.
 
Switch to our Bim Bam Boo Toilet Paper, an environmentally friendly, sustainable toilet paper that's velvety soft to the touch and does not leave any lint that damages your peach. Great for those with sensitive-skin that may be allergic to toilet paper.

What Makes It Perfect?

Sustainable & Eco Friendly:
From the packaging up to the actual product itself, our Bim Bam Boo Toilet Paper is made with 100% biodegradable material that easily decomposes. Wipe your behind knowing that you're helping the environment heal.

Lint-Free:
We made sure that each roll is absolutely free from rough particles such as lint and micro-fibers by teaming up with leading research specialists that are extremely competent and knowledgeable in their field. That means you don't have to experience any pesky irritations after responding to the call of nature.
 
Velvety Soft:
Our Bim Bam Boo Toilet Paper is made from 100% completely natural bamboo fiber that's processed to perfection to give you an extremely soft toilet paper that's suitable for extra-sensitive skin.

Septic Safe:
Our toilet paper is tested and guaranteed to be flushable so you don't have to worry about clogged toilets. It's also degradable for septic and sewer systems so just easily wipe clean and flush it down the toilet.

Cruelty-Free:
Our Bim Bam Boo Toilet Paper does not contain any animal-derived gelatin that's found in ordinary toilet papers. Rest assured that you're not buying each roll from a source that's full of cruelty, brutality, and unnecessary deaths of our beloved animals.

Gentle:
Tree-based toilet paper can be the  worst toilet paper for allergies. Our unique bamboo formula doesn't need the harsh chemical processing, so it's as soft on you as it is on planet earth. Not to mention, every roll is free from harmful ingredients such as BPA, formaldehyde, chlorine-bleach, and itchy glues so it's also ultra-safe for potty training kid's skin too!

Itch-free:
For those that feel they've done everything to figure out why they are itchy down there, it could be that you're having an allergic reaction to toilet paper. Bim Bam Boo bath tissue is hypoallergenic.

What are you waiting for?
Order your Bim Bam Boo Toilet Paper now and be involved in helping mother nature heal.

Not to mention, you can get a TRIAL single roll of our Toilet Paper if you're curious about our velvety-smooth texture. Order today and we'll deliver it right to your doorstep!

Product specifications
24 rolls per box
Each roll has 298 sheets
2ply
Septic-safe
Bye bye bad bacteria and the odor it causes! Our formula promotes a healthy vaginal pH, assuring you stay in balance with every wipe.
Laboratory tested for zero leave behinds. Our bamboo's long fiber construction will keep you clean and confident.
Developed from antimicrobial bamboo, our toilet paper is developed for the most sensitive skin, free from irritants and major allergens.
Why we think you'll love it
Bamboo fibers processed to
velvety perfection
No chlorine, dyes, formaldehyde, pesticides, sprays, BPAs, or GMOs
No paper left behind—a clean wipe every time
Tree-Free, Certified USDA Certified BioPreferred Plant-Based Tissue
Also degradable for septic and sewer systems, so flush away!
Made without animal-derived gelatin found in conventional TP
Why choose tree free bamboo TP?
Bamboo is a highly durable, flexible grass that grows super fast when compared to trees—it can grow to full size in just three-to-four months. And when harvested it quickly grows back. It doesn't harm the plant, it actually sparks regeneration. Amazing.
LEARN MORE


super-powered
super-powered
super-powered
super-powered
super-powered
super-powered
super-powered
super-powered
super-powered
super-powered
super-powered
super-powered
super-powered
super-powered
super-powered
super-powered
super-powered
super-powered
super-powered
super-powered
super-powered
super-powered
anti-microbial
anti-microbial
anti-microbial
anti-microbial
anti-microbial
anti-microbial
anti-microbial
anti-microbial
anti-microbial
anti-microbial
anti-microbial

FAQ
Our rolls are made of FSC Certified bamboo, organically grown and harvested in China.
To start with, because it is a renewable resource that doesn't contribute to deforestation. Bamboo is a fast growing grass, capable of growing 3 feet in 24 hours. It requires less chemical processing than tree-based tissue because its fibers are naturally antibacterial. Most importantly bamboo requires no fertilizer, little water, and regenerates after cutting–so the more it's harvested, the faster it grows! Read more about the benefits of bamboo on our blog.
Our products are manufactured in China, where our bamboo is grown and harvested. Our bamboo is harvested from a privately owned grove, located on the same grounds as our paper plant (this eliminates added carbon-costs for transportation of materials). Historically speaking, the Chinese are bamboo pulping experts. Their use of bamboo as an alternative fiber goes back almost 5,000 years, and their lands are home to rich bamboo resources (including the fastest growing varieties). Bim Bam Boo has forged manufacturing partnerships with some of China's best factories. Not only are they on the cutting-edge of alternative-fiber manufacturing, but they believe in humane practices for both their employees, and the earth.
Sure thing! Our certifications include: - FSC (Forest Stewardship Council) Certified for sustainably sourced fiber products - Elemental Chlorine-Free (ECF) - ISO 9001 (Quality Management) - USDA Certified 100% bio-based product
Because we've put years of research and product development into our product to make it better for you. Most traditional TP is not created with your health in mind and is often made with bleaching agents, formaldehyde, and some known carcinogens. Bim Bam Boo is vegan & cruelty free—we don't use harsh chemicals or fragrances. Our toxin-free formula is also hypoallergenic and lint-free. But it's not just good for you, it feels velvety smooth and is gentle on sensitive skin!
It sure is! Bim Bam Boo breaks down easily in all disposal systems, including compostable toilets and septic systems. We've even written a blog post about it.
We do our best to avoid plastics, but it depends on the product and where you buy it. Online TP: When ordering our toilet paper online, your shipment arrives completely plastic-free. Each roll of TP is individually wrapped in tissue paper and shipped in a cardboard box, both which are recyclable. Plus, the tape is plastic-free! Online or in-store paper towels: Paper towels are packaged in an outer film packaging made out of a soft-plastic (LDPE 4). It's recyclable anywhere what accepts #4 plastics. Woo recycling!! In-store TP: Our TP packaged for retail has an outer film packaging made out of a soft-plastic (LDPE 4). The soft plastic packaging and our individually tissue-wrapped rolls are recyclable in municipalities that accept tissue paper and #4 plastics. Woo recycling!! Online or in-store Facial tissues: Our tissue boxes are made from recycled paper and are completely recyclable.
You betchya! We wouldn't dare cut down a new tree to make our rolls–as we say, "they're good to their core!" Not only are they recyclable, they're up-cylable: check out some of our fun projects on Pinterest!
We use ECF (Elemental Chlorine Free) processing to whiten our tissue–it includes hydrogen peroxide as the primary compound, but also includes oxygen and chlorine dioxide. Learn more about our whitening process here.
Testing has found that Bim Bam Boo's quality will stay intact for a minimum of 5 years the purchase date. But based on our chats with researchers in the field, they believe as long as the TP is kept in a dry place outside of direct sunlight, it will not degrade or expire.
Bim Bam Boo products are not tested on animals. Additionally, our vegan formula uses pectin (sourced from fruits/vegetables) vs animal derived gelatin as a binding agent nor utilize any animal-derived ingredients.
Bim Bam Boo's facility and manufacturing process does not use carbon disulfide. As you may know, this dangerous chemical is often used to transform bamboo into a textile. Pulping bamboo into paper requires minimal processing of the pulp, and is far cleaner than the fashion/fabric industry.
Bim Bam Boo tissue is made with a proprietary blend of bamboo pulp and water, naturally-derived conditioners (to improve softness and strength), hydrogen-peroxide and pectin-derived gelatin. It DOES NOT contain methylisothiazolinone or benzisothiazolinone.