Back-to-School Checklist
August 22, 2022
Eco-Essentials for the School Year
Is it just us or will the end of August always remind us of back-to-school? As summer comes to a close, we know many families are preparing for the chaos and excitement of a new school year. 
Our team scoured the internet for the coolest and most innovative sustainable back-to-school items. Use this guide to unroll a sustainable school year! Or, download this PDF of our handy checklist here.
✔️ Pencils that Plant Trees
How cool are these? Once you're done writing, you can give back to nature to help make the planet a better place. These Plant a Tree Spruce Edition Pencils from Sprout make that possible! Simply plant the pencil when the pencil is too short to write with and you will have a baby spruce in no time. While Spruce are widely associated with Christmas, in just 2-3 weeks you can sprout your own seedling that can live up to 180-200 years. These are made from sustainably harvested wood, and the core is made from 100% natural and non-toxic graphite. 
👉🏾 Shop our Favorite Pencils that Plant Trees
NAME: Sprout Pencils | Plant a Tree Edition
PRICE: $9.99 for 5 pencils
ECO-PERK: Sustainably sourced and plants trees
✔️ Toxin-Free Lunch Box
We don't always think about the chemicals often used to make fabrics more durable, but lunch boxes can be chocked full of nasty toxins the elongate the life of the tote and make it waterproof. This Fluf zippered reusable canvas lunch bag perfectly balances durability with health and safety. They're made from organic cotton and have a recycled water resistant lining so it's easily rinsable, and food-safe. They use recycled water bottles to repurpose and line each bag with so you can easily throw an icepack in to keep lunches cold. They're made in a GOTS-certified facility and tested BPA, phthalates and heavy metals.
NAME:

Fluf Zipper Lunch Bag | Reusable Canvas Lunch Box

PRICE:

 

$31.95
ECO-PERK:

 Made of organic cotton and waterproof lining made of recycled water bottles
✔️ Ruled Paper Made of Recycled Material
Teaching kids to "do the right thing" when it comes to sustainability and the environment starts with choosing earth-friendly school supplies like this college-ruled, lined and fully recycled filler paper. It is three-hole punched, acid-free and just like our bamboo toilet paper...it is whitened without chlorine!
NAME:

Ecology College Ruled Recycled Filler Paper

PRICE:

 

$10.43
ECO-PERK:

 Made of recycled paper, acid-free and whitened without chlorine
✔️ Recycled Rubber Erasers
This assorted set of colorful erasers are made of 100% recycled rubber and come in a paper sleeve for easy-gripping. Major plus — reviewers report that these work better than normal erasers!
NAME:

Onyx and Green 3-Pack Erasers

PRICE: $7.99
ECO-PERK:

 Made of recycled rubber

 
✔️ Colored-Pencils Made from Waste-Paper
How cool are these? This company upcycles waste paper by tightly winding it into a pencil...SO TIGHTLY that they are as hard as a wooden pencil. They are made without harsh chemicals, so you can actually compost them when no longer needed.
NAME:

Recycled Paper Pencils Colored Lead

PRICE: $6.49
ECO-PERK:

 Made of up-cycled waste-paper and fully biodegradable
✔️ Plant-Based Glue Sticks
Glue sticks are not all made equally. We're loving these Onyx and Green glue sticks because of their non-toxic formula and use of recycled materials. Plus it works as well as standard glue sticks...they dry clear and are sized to perfectly fit in a pencil keeper.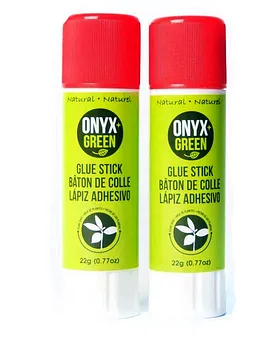 NAME:

Onyx and Green Glue Sticks

PRICE: $8.17
ECO-PERK:

 Made of recycled materials and unique non-toxic formula from plant-based ingredients
Like our articles? Get them in your inbox.